In June, we welcomed our Sales Manager for Africa and Asia Pacific, Darran Stone, to our main offices and production facilities here in Denmark. Darran is based in Western Australia and was accompanied for part of his visit by one of our newest Ellepot Partners, Nathan Hewson from Advanced Hort in New Zealand. Nathan and his team have been doing an amazing job for us in the New Zealand market over the past six months, and it was great introducing Nathan to the Ellepot Denmark team.
Advanced Hort also specializes in irrigation and greenhouse automation systems, making the company a great fit for Ellepot. In July, Nathan will be relocating his growing company and staff to a larger business location where they will establish a production center for premade Ellepots to supply to the wider New Zealand horticulture industry.
The visit gave us a chance to get to know Nathan, discuss the future of our partnership, and let him get acquainted with our facilities and staff. We look forward to continuing to grow the Ellepot market in New Zealand with Nathan and his team at Advanced Hort.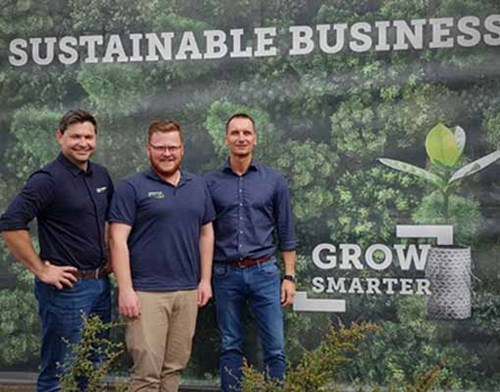 In front of our main office building we have, from left to right, regional sales manager Darran Stone, Ellepot partner Nathan Hewson, and Ellepot CEO Lars Steen Pedersen.
 
Advanced Hort is owned and managed by Nathan Hewson.

Contact Nathan Hewson:
Email
Mobile: +64 27 378 5481
1/137 Tetley Road, Katikati, 3178, New Zealand
www.advancedhort.co.nz