Grow Big with the Automatic H-303 Tray-filler Model from Ellepot
ELLEPOT H303
Ellepot employees and team members live to push technology to the limit and see how far the Ellepot products can go. This type of process requires a dedicated partner or customer who is willing to go through the tests and trials to examine and determine how the Ellepot System can fit into their operation, climate, and logistics. At Ellepot we are lucky to have many of such wonderful customers, who care about sustainable innovations just as much as we do.
When Ellepot first started, our system produced small pot sizes, but in recent years, Ellepot has been implementing the jumbo size Ellepots and hereby presents the H-303 machine that produces the largest Ellepot size available in this category – a Ø120mm x 300mm Ellepot! For these large jumbo size pots, a series of different Air Trays® are available, utilized for optimal root growth and root strength, while offering the special air pruning technology you know from our smaller size pots.
Our largest pot size at ø120 mm x 300mm is best utilized sustainably with long-life Air Trays® from our selection here at Ellepot – these hard plastic trays are injection molded and made with recycled plastic, customized with inserts to support the extra length of the pots, a design that makes handling, waste-handling, and logistics easier, as the trays can be reused for many years.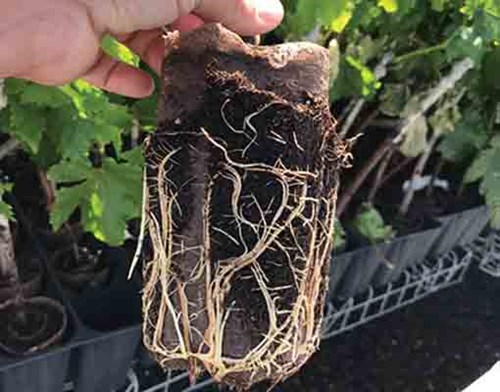 One of the key issues with growing in this pot size is getting the growing media right – especially the density of the media once in the pot. Ellepot's best-in-class partners and customers recommend not filling the pots too densely, because the fastest and strongest roots are typically seen in the more loosely filled and airy Ellepots. Of course, the pots still need to be dense enough for the growing media to stay in the pot, so it's all about finding just the right balance.  
Our customer for this machine produces jumbo size Ellepots for fruit and nut tree nurseries in the Middle East and Mediterranean areas that grow crops such as kiwi, cherry, apple, peach, avocado, macadamia, and mango.
Explore more about the Automatic H-303 Tray-filler Model from Ellepot