Avocado market on the rise for EllepoT
In recent years, we have seen that the combination of our Jumbo Ellepots and Air Trays has been a game changer for the Fruits and Nuts segment by enabling the replacement of plastic bags and pots while simultaneously allowing nurseries to produce a better-quality plant. 
In previous newsletters, we discussed the results of our Jumbo pots for crops such as citrus, apples, and olives. During this time, several growers around the world have also been testing the Ellepot system for the propagation of avocados – and they are also experiencing great success. As a result, more and more avocado growers are choosing Ellepot.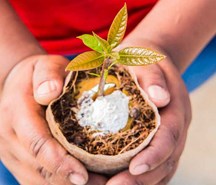 With this increased interest in the Ellepot system for avocados, we are happy to announce that Ellepot will participate at the 2023 World Avocado Congress (WAC) in New Zealand from 2-4 April 2023.
Representing Ellepot at the Congress will be Ellepot Regional Sales Manager Darran Stone. If you are planning on attending WAC, please visit Darran at stand 2-2, where he will be happy to discuss recent developments and results and how Ellepot can benefit avocado nurseries and growers alike.
We look forward to sharing more information with you in the coming months on the exciting developments for Ellepot for Avocado and the WAC.